BlackRock strategists aren't holding their breath for U.S. corporate earnings to finally turn positive in the third quarter.
While many investors have been hoping the S&P 500 index
SPX
will finally shrug off a string of negative quarters to post slightly positive earnings growth in the third quarter, a team of strategists at BlackRock Investment Institute suspect that earnings growth will remain fairly stagnant for some time (see chart).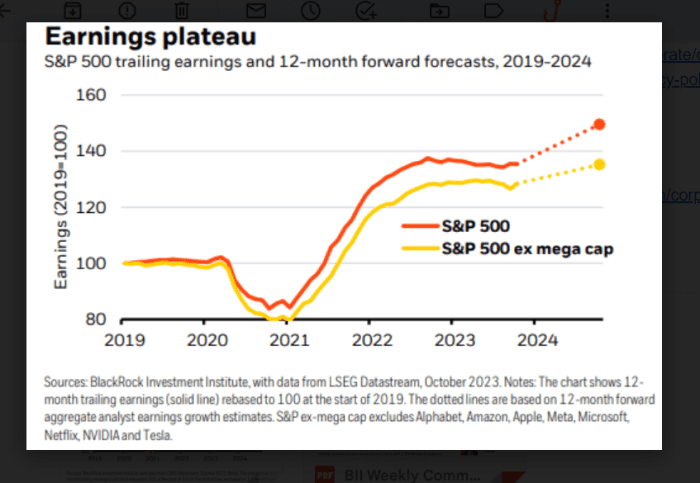 Their chart also underscores the key 2023 theme in which a small group of major technology stocks has continued to drive equity gains. Of these, Microsoft Corp.
MSFT,
+1.30%
and Google parent Alphabet Inc .
GOOG,
+1.44%
will report earnings on Tuesday, followed by Meta Platforms Inc.
META,
+2.54%
and Amazon.com Inc.
AMZN,
+1.89%
later in the week. Tesla Inc.
TSLA,
+0.45%
reported earnings last week, while Apple Inc.
AAPL,
+0.34%
is due to report early next month.
Read: Apple faces 'ominous' setup heading into earnings, analyst warns
"Markets expect year-over-year earnings growth to turn slightly positive in Q3. We think hopes of a long-awaited pickup are masking a still relatively stagnant growth trend," Wei Li, global chief investment strategist, along with a BlackRock Investment's team, wrote in a Monday client note.
"Modest earnings growth doesn't reflect the market narrative of a resilient economy either, in our view."
Instead, they view "stealth stagnation" over the past 18 months as having "gone under the radar" because consumer spending, gross domestic product and job growth have remained resilient, masking the problem.
But with the 10-year Treasury yield
BX:TMUBMUSD10Y
briefly topping 5% on Monday for the first time in 16 years, markets "are coming around to our view of interest rates staying higher for longer in the new regime," the team said.
To that end, the team is overweight short-dated Treasurys
BX:TMUBMUSD01M,
but also likes quality in equities and fixed-income. They also think there's still upside in artificial intelligence, investing in the rewiring of globalization, the transition to a low-carbon economy and the future of finance.
Stocks were flat to slightly higher on Monday, but the S&P 500, Dow Jones Industrial Average
DJIA
and Nasdaq Composite Index
COMP
were on pace for monthly losses in October, according to FactSet.
The S&P 500 was expected to produce earnings growth of 1.1% in the third quarter on a year-over-year basis, according to LSEG I/B/E/S.