Free SEO Audit Template for 2023
Looking to improve your website's SEO but don't know where to start?
Use our free SEO audit template to find SEO issues that need fixing.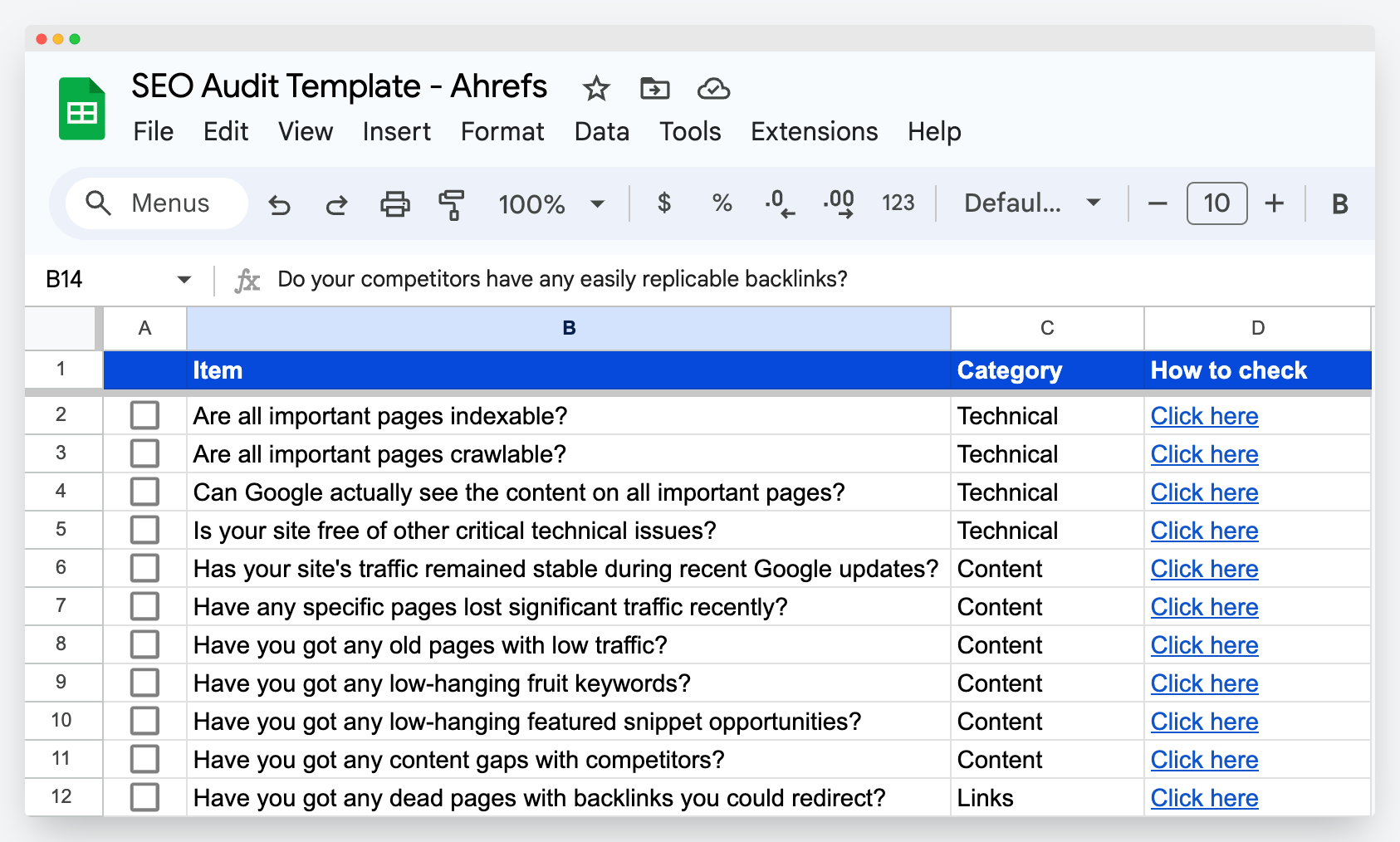 Our SEO audit template focuses on finding SEO issues that move the needle—not everything that can go wrong with a website. This is because sweating the small stuff rarely does much for your rankings. It's better to spend 80% of your time fixing the 20% of things that matter.
It's also:
Easy to follow (each step has clear instructions).
Easy to outsource (just send it to an employee, freelancer, or VA).
Interactive (check each item off the checklist as you go).
Doing an SEO audit for a client?
My buddy Patrick (who's done way more SEO audits for clients than me!) has some great advice: 
If clients are coming to you asking for an audit, they already have a pain point. Talk to them. Solve that one thing and they'll be happy with the audit.
Our template has 13 items focused on issues in three categories:
Technical issues like indexing and crawling. 
Content issues like outdated content and content gaps.
Link issues like dead pages with backlinks.
Sidenote.
Remember that we're not focused on finding every issue under the sun here. We're focused on finding and fixing the stuff that matters. That's why our template only has 13 steps, not an overwhelming 100-200 like many others.
Follow these three simple steps.
1. Crawl your website
Set up a free Ahrefs Webmaster Tools (AWT) account and crawl your website with Site Audit. (Make sure to tick the "Backlinks" option under "Crawl settings" as this is important for one of the checks in the template).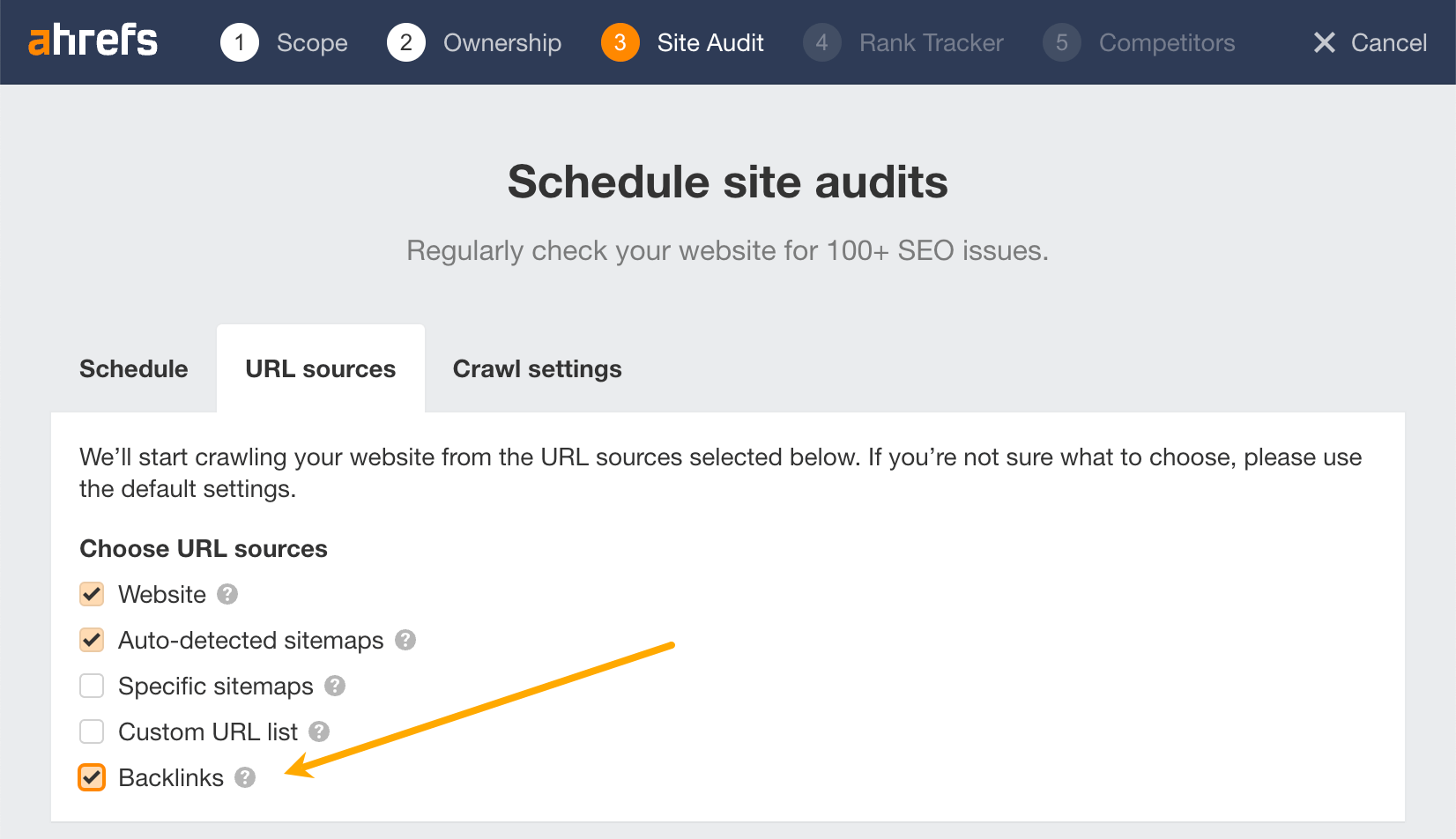 2. Download and follow the template
Check off items as you complete them.

3. Get help with further reading links
You'll find these in the template. Use them if you're having trouble following a step or fixing an issue. 
Keep an eye on your organic traffic in Google Search Console or Ahrefs' Site Explorer. Hopefully, fixing the issues in our SEO audit template will lead to some improvement.
I also recommend scheduling regular crawls in Ahrefs' Site Audit. This will alert you to important SEO issues as they happen so you can fix them before they cause problems.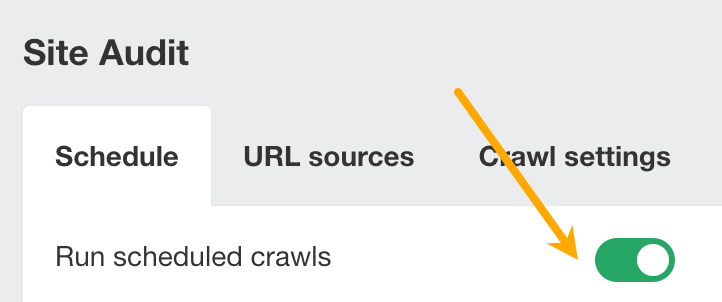 Got questions? Ping me on X (Twitter).