Christopher Walken Destroyed Original Banksy Art for The Outlaws
There is little doubt that Christopher Walken is one of the more eccentric actors in Hollywood today. His most recent stunt may well have cemented that status. In the series one finale episode of the BBC Series The Outlaws, the 78 year old actor painted over a Banksy original painting as a part of the story.
The anonymous artist had painted one of his signature rats on the set of the drama, as it was filming in his home city of Bristol. The rat was painted over by Christopher Walken during the final episode.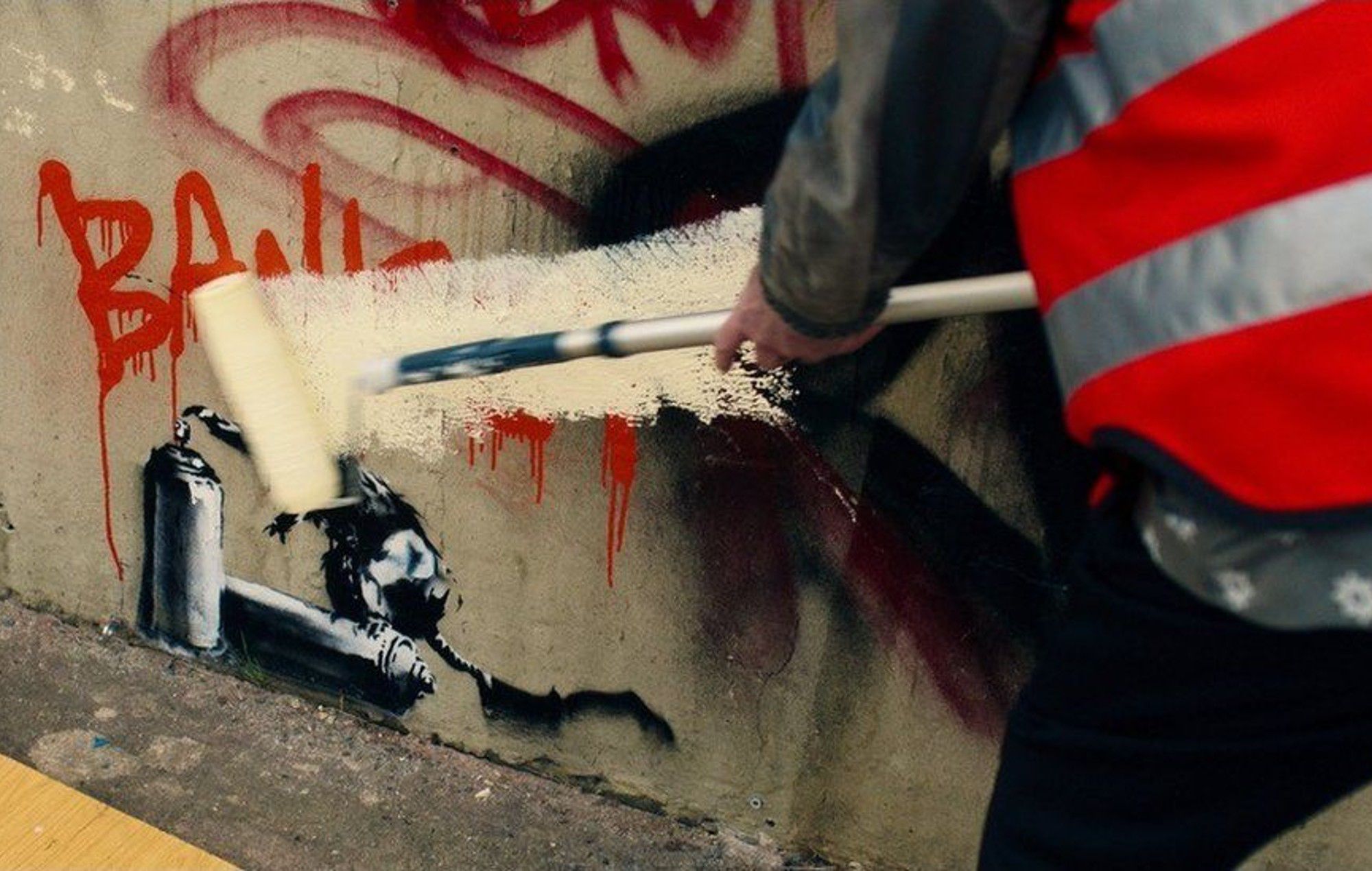 A spokesperson for the show said: "We can confirm that the artwork at the end of The Outlaws was an original Banksy, and that Christopher Walken painted over that artwork during the filming of this scene, ultimately destroying it."
The Outlaws follows a group of minor criminals as they are forced to complete a community service sentence. Walken plays one of those criminals. The series was written and directed by Stephen Merchant.
In the last episode, Walken's character uncovers a Banksy rat on the building they're refurbishing. After asking his probation officer Diane (Jessica Gunning) whether he should paint over the rat. The probation officer, who is distracted and unaware that the rat is painted by Banksy, instructs him that all graffiti should be removed.
Walken has had an illustrious career playing many eccentric roles, although more people remember him from his stint on Saturday Night Live where he played fake music produce Bruce Dickinson than any other role. To this day, he still gets asked if he wants more cowbell wherever he goes.
Banksy is the pseudonym for an England-based street artist, political activist, and film director, whose real name and identity remain unconfirmed and the subject of speculation. Active since the 1990s, his satirical street art and subversive epigrams combine dark humor with graffiti executed in a definitive stenciling technique. His works of political and social commentary have appeared on streets, walls and bridges throughout the world. Banksy's work grew out of the Bristol underground scene, which involved collaborations between artists and musicians. Banksy says that he was inspired by 3D, a graffiti artist and founding member of the musical group Massive Attack.
Banksy displays his art on publicly visible surfaces such as walls and self-built physical prop pieces. Banksy no longer sells photographs or reproductions of his street graffiti, but his public "installations" are regularly resold, often even by removing the wall they were painted on. A small number of Banksy's works are officially, non-publicly, sold through an agency created by Banksy named Pest Control. Banksy's documentary film, Exit Through the Gift Shop, released in 2010, made its debut at the 2010 Sundance Film Festival. In January of 2011, he was nominated for the Academy Award for Best Documentary Feature for the film. In 2014, he was awarded Person of the Year at the 2014 Webby Awards.
The Outlaws also stars Rhianne Barreto, Gamba Cole, Darren Boyd, Clare Perkins, Eleanor Tomlinson, Dolly Wells and Ian McElhinney. The show was renewed for a second series in January of this year. It is available for streaming on BBC iPlayer. This story came from NME.